Competing against people who spend money to advance in the game, no matter how much they spend, I really don't mind. The option is afforded to me, and everyone else, on a game that we can choose to, or not to play.
What I can't come to grips with is this Celestial wall. As I work my way up through the mage trials for Season #2, I look at who I'm chasing. I check out the gear and stats of those among the top of the leader board, to see how they are getting it done.
Observation: Player's decked out in competitive celestial gear.
Mission: I must have! So, have I shall! Alright. Time to think. How do I achieve this? Hmm...
Go the way of the Custom Celestial Item box (seeing as how this is currently the only way).
Well, Custom Celestial Item boxes create Level 70 Legendary gear. But, that won't do me any good.
*pshaw*
Level 77 gear, here I come!
But, wait a sec...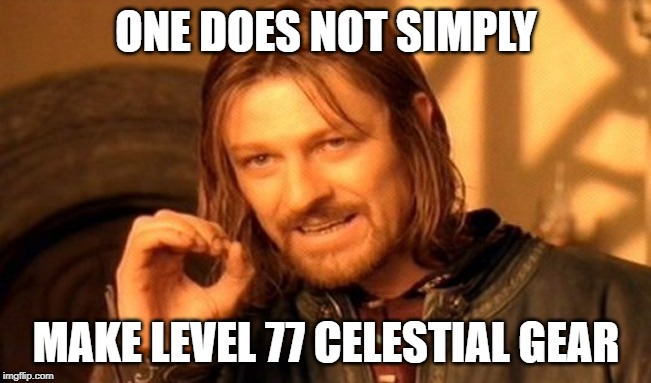 Roger that. OK.
First, I need to craft
the most absolute bestest staff evar!
grind, grind, grind...zzz...grind, grind, grind...craft (dangit!), craft (better luck next time!), craft (son of a...) ...
eons later...
My precious!
Got it!
- So, how do I make this thing a celestial item? Let's see... Ingrid says I'll need a Celestial Transform, but won't just give it to me.
Damn you Ingrid!
<.<
- Apparently, to make 1 Celestial Transform, I need 3 Celestial Essences. Sounds simple enough.
- Well, I was able to get a maximum of 2 Custom Celestial Item boxes from the last event... sweet.
- I'll just make 2 Level 70 Celestial "whatevers", salvage them, then get 2 Celestial Essences! Done!
- But... I need 3 Celestial Essences. Not 2... 3.
So, if I just wait until the next ticket event, I can get 2 more...
... then, I'll have enough to make 1 competition worthy celestial item...
...but, Season 2 will have been long over.
What the WHAT?!?
Pfft. Forget that.
I'll just throw money at this problem. Oh, wait a sec. I can't.
Alright, I'll just grind my way to competitive celestial gear. Hold on. Can't do that either.
So, even if I collected Custom Celestial Item boxes from "Ticket" events, at a rate of 2 per event, I will always be months, if not more than a year behind those who already have them???
I must be missing something here. I really feel like I am. I welcome any help regarding this problem. Thanks in advance.
I'm not saying it's not possible to reach top 500 without several pieces of high level celestial gear. I know it is. Last season, I placed 102, without any celestial gear. I just got my first 2 Custom Celestial Item boxes from the last Silver. But, I'm not OK with just settling for top 500, or top 100. I want to simply have the ability to compete for a top 10 position. And, right now, that is impossible for me to do. No amount of time or money will allow me to catch up (gear-wise) to those that already have celestials a plenty. I'd like to think that could work towards a Medal of Glory, but all it is is a carrot on a stick.
Don't get me wrong. I don't think that those who earned them fairly should get anything taken away from them. I actually congratulate them on their hard earned rewards. But, the game mechanics that made celestial items much more attainable has been removed from the game. To those that got their hands on them while the getting was good, good for them. I would've done the same. Just don't make me compete against them.
Just a thought. What if we...
Season #2 - Gold (Celestial Item Limit: None)
Season #2 - Silver (Celestial Item Limit: 4)
Season #2 - Bronze (Celestial Item Limit: 2)
... or at least something along those lines.
Allow us to choose which Season level to compete in. Once we select a Season level, we're locked in until the season is over. Make it so that we can't enter trials if our character is equipped with more celestial items than the Season level permits. Keep rewards the same across each Season level.
I know there are potentially a number of issues with a set up like that. Could it break up the community a bit? Possibly. Would there have to be 3 different Leader Boards? Of course. But, like I said, it's just a thought. I'd feel much less cheated competing against people who only had 2 celestials vs people who have 8.